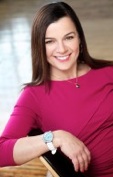 I had a wonderful conversation and interview with Deanne Kelleher of KAOS Group. Deanne and I met over 10 years ago (we built our relationship!) when she ran the Beaches chapter of the now defunct Women in a Home Office networking group which met at the Ashbridges' Bay Yacht Club. The scenery there is beautiful and looking out over the waters of Lake Ontario is so peaceful. But I digress

She is everywhere – at a CAWEE (Canadian Women Entrepreneurs and Executives) networking and learning meeting (she runs their lunch 'n learn events), running her own business, teaching at a community college AND Deanne is a wonderful connector!. She introduces people who need something to someone who has it.
A couple of years ago, after my stroke I needed help with my books and files and she organized them so  I could get at them easily when I needed to. That was time and money well spent.
She's always been an organizer. It's in her genes. So she started her own organizing business and became a business owner. You'll hear a lot more detail in our interview recording.
Click below to hear our interview. If you want to save a version to listen to at a later time, click where you see "Download MP3″.

Deanne can be reached via phone at 416 347 9002 here in Toronto or by email at info@kaosgroup.com
Her website is
kaosgroup.com
. You may ask her any questions about her services and you may even use her. She's very accessible and will call or email back right away. If you want any kind of organizing – business or personal – call her.
I interview these women business owners to demonstrate to you that YOU CAN DO ANYTHING!
Who would YOU recommend I interview? Who is an inspiration to you?