Fear is a natural feeling.
It told cavemen and women to run away from something dangerous. But we're not cavemen or women now and having some fear is healthy. We should feel afraid when a gun is pointed at us. It's only unhealthy when you feel so much of it that it stops you from acting.
It's normal to be afraid when you're starting or running your business. Fear acts as your guard at the gate of your comfort zone. But getting out of your comfort zone especially in business is a good thing.
Letting those fears stop you is a bad thing. Using them to transform your business and you IN your business is good. Here are some ideas of how to use them
1. Fear of being judged. Needing approval from family, friends or clients in order to do something is bad.
Each time you catch yourself wondering what others would think than try what I learned from Jack Canfield in 1992. Look into your eyes in the mirror and say "I approve of me." It works.
2. Fear of rejection. This can happen with every sales call, newsletter, followup or offer – the core activities of business.
Rejection is just a no. Don't take it as being a rejection of you. You actually want rejection as a business owner so you can learn from it. If you're not experiencing rejection, you're probably not getting clients.
3. Fear of embarrassment. Think of a public mistake someone else made. Did they acknowledge it? What happened? You probably said or thought that it was nothing and then carried on. Be easy on yourself too just as you were to them.
4. Fear of the unknown. This is probably the biggest fear of all for a business owner.
Remember that business builders have had fears and failures, and then needed to dig deep to find the courage, motivation and willingness to keep moving forward with their dream. Even when it wasn't easy. Remember that you're not alone.
Don't let fear stop you from moving forward.
Take small steps and take actions which move you toward your goals.  Don't let yourself wallow in your fear and tell yourself scary stories.
Do this …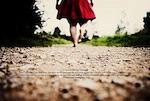 Pick one of your goals for the next year. Now think about one step that you can take over the next week to get started now and start building positive momentum immediately.
Don't worry about thinking beyond that one step. It will inevitably lead to a second, then a third. Just take the first one. You'll already be way ahead of the alternative – which was the inaction that your fears caused.
Go from fear to triumph.
What have you tried that worked? Tell us so others can benefit from it.
photo credit: Shandi-lee via photopin cc
photo credit: -mrsraggle- via photopin cc