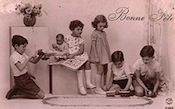 I'm the oldest of four children. There are many theories about this and how birth order affects personality traits. My three brothers will tell you that I'm bossy and probably that's because as many oldest children I was put in the role of surrogate parent.
The oldest is an overachiever, natural leader, and authoritarian. S/he also tends to be reliable, conscientious and a perfectionist. Firstborns are typically aggressive and they're model children who have a strong need for approval from anyone in charge.
Some of these characteristics match mine but not all of them.
What I do know is that they all helped me become an entrepreneur. Here's how …
creative – if something isn't there, we assume we have to create it. (I was born in 1950 so there was a lot of creating necessary.)
educator – when we create something it takes a lot of educating people about it AND we're good at training our clients and our staff.
leadership – goes without saying that this is one trait that all entrepreneurs have.
overachiever – we work hard to accomplish our goals and we're persistent.
reliable – we really need to have our clients rely on us.
aggressive – this needs to be toned down. As a boomer we can be less aggressive.
Entrepreneurs have many more traits but these match with birth order. Where do you rank in the family? What traits do you have that would be good when you start a business?
photo credit: janwillemsen via photopin cc