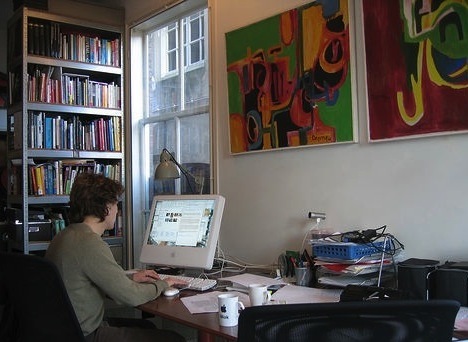 What does it feel  like to be alone when you're a self employed person who works from home? Do you like it? I know there are phones, texting, email, skype and facetime but using them is not the same as being with someone. You can do your work at a coffee shop and have lots of people around you but that's not it either. What I'm talking about is getting out, talking and being with another person. It's about spending time with someone and communicating with him or her. What's missing is the social interaction that comes from this meeting.
And what if you're okay with being alone but like me you are "stuck" in your apartment or house (especially if you're an extrovert)? I had a debilitating stroke in 2005 that has given me many physical disabilities all of which I accept. One of them means that I have a lot less energy than I did before.
What I miss however, is not being able to drive. To me it meant freedom, independence and spontaneity. Now I need to call a taxi to go somewhere or arrange with friends or family to drive me – plan my outings.
I've learned through this experience to savour every moment with others. I've also learned first hand how to live "in the moment". I look forward to ALL of my time spent with colleagues, friends and family.
Going out with my brother to the grocery store has become an outing. Having lunch with a friend or meeting a colleague for coffee is a delight. Being at a networking event is heaven.
Recently six of us women solopreneurs who know each other well started a mentors' circle which is kind of like a mastermind. We spend the first half hour of our meeting every month sharing our business challenges with each other. We aren't looking for solutions … yet … we just need to vent – get things off our chests – with others who understand since we all have something in common.
Back to the focus of this article …. what have I learned that I'd like to share?
Plan to get out more often and live in the now when you do.
Arrange to have coffee with someone you know. The anticipation of this event gives you as much pleasure as the get together itself. Dr. Jeremy Dean, psychologist who is the author of Psyblog suggests in this article that (link to article http://www.spring.org.uk/2013/07/10-easy-activities-science-has-proven-will-make-you-happier-today.php

"Research on the psychology of happiness shows that anticipation can be a powerful positive emotion. We enjoy looking forward to things much more than we enjoy looking back on them afterwards (Van Boven & Ashworth, 2007).
So, make a plan now and try to always have something to look forward to, however small."
As a solopreneur you'll be happier and a lot more productive when you do

Do you have something you do to get human connection?
photo credit: Home alone via photopin (license)
Image courtesy of Serge Bertasius Photography at FreeDigitalPhotos.net