Ghostblogging – blog posts written for you
"Making the simple complicated is commonplace; making the complicated simple, awesomely simple – that's creativity."
— Charles Mingus, jazz musician
If you don't have the time to write a blog post,
I'll do it for you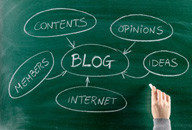 Do you have a blog for your business? Everyone tells you that you should but you don't have time for one since you're busy with client projects.
You know you should write regular blog posts to use as one of the marketing activities in your social media plan. Having a blog might be just the thing you need to bring your business to the next level.
Enter a ghostblogger – me.
What is a ghostblogger?

It's someone who can write the posts for you. You don't have to feel overwhelmed when you look at having to add this task to the many things you already have on your "to do" list.
What do I do as a ghostblogger?
First I look at your website to get a sense of your writing style. Then we have an in person or phone meeting to talk about you, who your target market is and what you want the blog to do for your business. Then I do four things …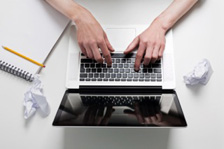 Edit your copy for the post.
Write a subject line for it.
Find a free image.
Do the SEO including choosing the right keyword.
What you do …
Write a draft of the content for each post in Word (it can be a few bullets or even in point form). Then email each one to me. Don't worry about grammar or spelling or a title. I'll fix your writing when I edit.
Approve each post (after it's done)
Hit PUBLISH!
Two things to remember…
Before I post each one (or "make it live") I always email it to you so you can approve it.
You can change anything – any time and use it anywhere else. It's yours.
Here are a few more questions you may have …
Who owns the content? You do – it's your idea and once I've written the blog post for it you have full rights to it. That means you can use it anywhere you like.
How many times can I come back and have you change the draft you send me? I write it once and send the draft to you. You can review this and have me make changes once or do them yourself if they're minor. Hopefully, there are no changes for me to make
What is your timeline? How many days before publishing it on my blog do I need to get the draft to you? At least seven working days.
Can you use content from my talks, workshops or webinars? Yes. I can repurpose/ rewrite this content into posts. (For example, a workshop often becomes a series of posts).

"I wanted a blog but didn't have time to do it. Trudy takes each of my drafts, edits it, gives it a title, finds free pictures for it and does the SEO "stuff" so each one can be found easier. I post every two weeks so writing a draft that often is very manageable. We've been doing this for several months now. Trudy has been a life saver for me." Kim Chernecki, Founder of Freedom Street.
Here are three more services that I can do for you.
Have a one hour idea generation session with you.
Distribute each post on four strategic social media platforms (twitter, facebook, linkedin, google+ or pinterest). (Ask me more about this one.)
When you're ready I'll teach you how to do it yourself. 

Email me at  trudy@smallbizbuilder.com or call 416.778.9976 from 10-5 PM EST Monday to Friday to talk and get answers to your questions. I can also send you samples of some of what I've done.

PS I offer my "blog package" which gives you 4 blog posts for $300.