"Learning is finding out what you already know. Doing is demonstrating that you know it. Teaching is reminding others that they know it just as well as you."
– Richard Bach
Educational Packages That Help You Start and Market Your Business From Someone Who Has "Been There and Done That" Several Times.

Most services are intangible. You can't touch, taste, smell or see them. In fact, they don't exist until you buy them. So even more than with products your relationship with the seller of these is a critical factor in your buying decision. The "know, like, trust" factor really kicks in.
Your questions are all addressed by me and I work with you to set goals and devise strategies and action plans to achieve them. You'll have everything in place to support the steady flow of prospects that you will unleash as well as the increased repeat sales from them.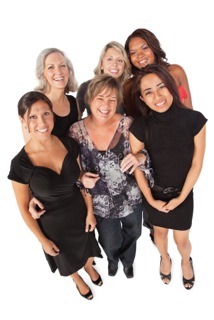 You're a good candidate to work with me if you:
Are committed to learning – new ideas or approaches that you haven't tried before.
Are patient and know that results take time.
Are prepared to invest time, money, and energy to accomplish the change that will be required.
Are passionate about your business and will "do whatever it takes" to accomplish your goals.
"When Trudy was in San Francisco, I was the consultant who worked with her on the QuickBooks accounting system. She really is organized – had everything ready for me! After she moved back to Toronto, she and I worked together on content when I revised my web site.  Now years later, I still use some of what she wrote and suggested. " Bonnie Nagayama, CPA, QuickBooks ProAdvisor and Enterprise Solutions Provider. http://www.4luvofbiz.com
I know the questions to ask, the information you need, and have access to a wealth of resources – both human and otherwise.
Coaching with me will do these things for you:
When we work together everything we agree upon WILL get done and will be very effective because I'm your "accountability partner" (since I'll speak with you regularly)
I'll be sure that you focus on the step-by-step actions that produce the results you've identified.
You'll get customized, simple, and proven systems that help you build your

business

the easy way … one step at a time.
If you are looking for a partnership – with no strings attached – then this will work for you. You'll have someone to advise you what to accomplish and how to do it.
Choose which service you need from these four:
1.   My First Business
2.   Marketingmapamonth
3.   Control Your Computer
4.   Build A Blog
Work with me to design and implement your business and marketing plans. Together we'll produce what you're going to do and you WILL follow these plans because I'll be right there by your side even though you don't see me!
You'll find a whole new perspective and the results you want simply and easily and in the time that works for you. Together we achieve practical solutions to complex problems in a cost effective manner. Business (AND marketing AND technology) doesn't need to be difficult, expensive, and stressful. It can be easy and delightful.
YOU WANT RESULTS. So do I. Here are just 9 of the outcomes you can achieve by working with me. You'll:
1.   Gain a steady stream of prospects searching for YOUR products and services.
2.   Achieve organization in your business.
3.   Learn the right tools to begin earning income.
4.   Coordinate your business activities.
5.   Learn a business and marketing mindset that transforms your approach to clients.
6.   Understand how to do items such as newsletters, website, an electronic signature on emails, create teleclasses or webinars.
7.   Avoid costly mistakes by having a strategic advisor and sounding board.
8.   Ask better questions – the kind that will get increased sales and profits.