"The only thing worse than not reading a book in the last ninety days is not reading a book in the last ninety days and thinking that it doesn't matter."
— Jim Rohn
Read These Books That I Recommend
Visiting bookstores is a favourite pastime of mine both off and on line. I guess you could say I'm addicted to books! Browsing the new marketing and sales books – and finding business classics that I haven't yet read really gives me pleasure. New ideas. A different way to tackle an old problem. Reading stimulates my passion for business and life.
I'm a pragmatist so you'll see that all of these books offer a practical approach with a minimum of theory.
Visit bookstores regularly and browse them to find your own business or marketing motivators. Go online and look at the books that do something to and for you. Send me an email with your new "finds".
These are some of the "classic" business books that I refer to a lot. They among others are the backbone of my business beliefs. They answer the question that I'm frequently asked, "What are the best ones you've read?" They include some of the "mind-expanding" approaches and classic works that should be in everyone's business library. The publication date doesn't matter – these are some of the ones that should always be remembered. I've also read and use every one of them – otherwise they don't get on this list!
These books will open your mind to building a successful business right from startup or get you back on track if you've been derailed.
"This 'telephone' has too many shortcomings to be seriously considered as a means of communication. The device is inherently of no value to us."
– Western Union internal memo, 1876
How many situations like the one above have you heard of or read about? Never become rigid in your thinking or beliefs about what is possible.
Click on one of the following books and order it. Or visit your local bookstore or public library or bookstores online and let your mind be expanded by what you read.
There's always a new take on an old idea to be found in printed books and in e-books. These are books and authors whose material I always make some time to read.
"I'm an avid reader and have and do come here often to see what Trudy is reading and what's on her bookshelf. These books helped me to do my jobs more effectively. They are full of ideas and if Trudy says they're worth reading, they are." Pamela Pilon, former Executive Director, Beaches Business and Professionals Association

The E-Myth Revisited. Why Most Small Businesses Don't Work and What to Do About It.
by Michael Gerber.

Gerber first published this in 1986 when the "E" meant entrepreneur and edited it for re-publishing in 1995. This book is at the core of my work with clients who want to work ON their business and NOT IN it. It's the classic that EVERY small business owner MUST READ. Since then he has continued to publish and written several books not least of which is "The E-Myth Enterprise" in 2009 and "Awakening The Entrepreneur Within" in 2009 as well. He has co-authored many "vertical market" books like The E-Myth Veterinarian in 2015 Look at and read the ones that interest you.
Getting Everything You Can Out of All You've Got. 21 Ways You Can Out-Think, Out-Perform and Out-Earn the Competition."
by Jay Abraham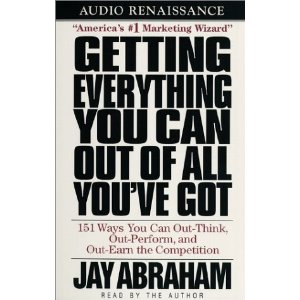 If you haven't heard Jay's name before in marketing circles, then you should know that the advice he has given to small and large organizations runs the gamut from IBM to Tony Robbins, and from Microsoft to thousands of professionals and entrepreneurs.
His ideas are simple, clear and "do-able". The results his clients get are dramatic. This book is the "how to" guide to multiplying your growth potential through marketing.
Guerilla Marketing For Free
by Jay Conrad Levinson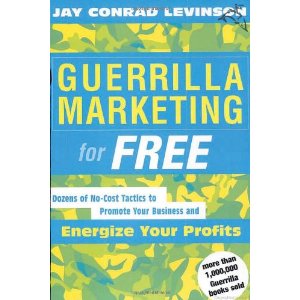 Jay put the word Guerilla before everything he wrote. He's one of those who really used branding the way it was meant. He's dead now but ANY BOOK written or co-authored by him is useful to us as small business owners. He understood us and all of his books (hence Guerilla) are marketing done at low and no cost.
What Clients Love and Selling the Invisible
both by Harry Beckwith


There are two books by Harry Beckwith that I recommend. What Clients Love is for everyone. I read from Selling the Invisible in my workshops and tell everyone who has a service business to get it.
They both will make you think and give you ways to increase your business the way you want to with the clients you want.
Get Clients Now!TM
by C.J. Hayden

C.J. is a woman whose course I've taken and taught. The book can be used as a stand-alone especially for service businesses as it is written for them. It is very organized and systematic (that's why I like it!) beginning with How to Start, what's stopping you and what to do. My copy is highlighted and dog-eared as I use it for me and for others. Get the newest version – it's been revised to add online techniques.
Unleashing the Idea Virus
by Seth Godin

This is the first book by Seth that I read. He's truly a master of marketing He's a real iconoclast – thinks rules are made to be broken. This is one of his best known books. Like Apple he has a real following who "love" him and listen to everything he says.
He's written and published many books over the years. Istill get his daily blog posts! (Seth used to write for Wired magazine which came out in 1993.)
Losing My Virginity and Screw It, Let's Do It
both by Sir Richard Branson


Richard Branson is a true entrepreneur. He's even been knighted by the Queen of England. If you haven't heard of him yet, he's English and owns almost anything that has the word "Virgin" in it including Virgin Mobile and Virgin Airlines. He's known as being very flamboyant, involved in each of his endeavours, hands-on, AND he believes and uses other people, too. These two books are by him.
Attracting Perfect Customers **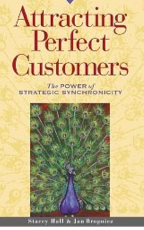 The authors of this book, Attracting Perfect Customers, wrote the definitive book that marries business and spirituality. Their newsletter and courses are excellent. I carry this book everywhere and talk about it in every speech and course.
MORE BOOKS TO READ!
Here are more books to read or at least to know about.
The Slow Fix. Solve Problems, Work Smarter and Live Better in a World Addicted to Speed
by Carl Honoré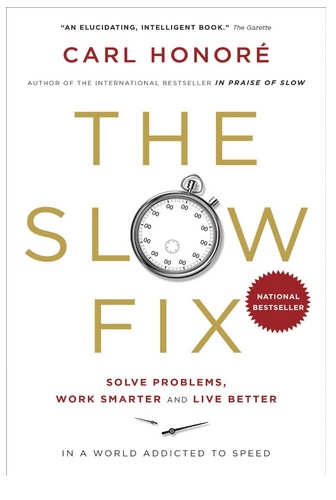 Many of us are addicted to speed. We think faster is better and that quick fixes work. It's not and they don't and Honoré explains why … and how to do things slowly, make mistakes, wait, plan, feel and … play. In most chapters he offers a process to help us succeed in solving problems by giving us a procedure and lots of examples from big companies and small, medicine, the military, prisons, government, TV, education etc.
Whether the problem is big or small, he offers solutions that people have used – and none of them involved a quick fix. As "famous" people often say "I was an overnight sensation but that night was 25 years long". As you read on the inside cover "Honoré brilliantly argues that the best way to face what troubles us in this frantic world might just be to take our time."
POP! Stand Out In Any Crowd
by Sam Horn
Wow! Everyone should read and own this book. POP stands for purposeful, original, and pithy. Use the ideas in this book to create a tagline, a subject line, a product or a service if you want to stand out from the crowd (and everyone  does). Horn's book (and her) is full of practical ways to brainstorm, connect with, and communicate ideas to clients and colleagues. Each chapter has a technique you can try. If one doesn't work then the next one will.
This book will become your tool to break out big and be seen. It's full of ideas for newsletter and blog post subject lines. That's why it sits by my bed and I re-read it often. It WILL teach you how to "stand out in any crowd".