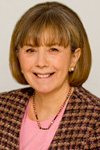 "If at first you don't succeed, welcome to the school that educated me."
– Thomas Edison, Inventor

"You can be whatever you want to be." 
This was a statement I heard throughout my early life. 
"Get an education. That'll help you to get ahead." It's what my mom said to me repeatedly.
My mom never finished high school and my dad had Grade 12. My aunts and uncles and most of my cousins did not go to university. Did I feel some pressure? You bet I did but I went to university because I believed my mom when she said that a degree would make a difference. It did and it didn't but more about that later.
I went to the University of Western Ontario for my BA then attended teachers' college to become a teacher and from ages 22 to 30 taught elementary school. I love teaching and as a matter of fact teaching is what I've always done over the years (just not in the formal school system). I was happy teaching the kids and got a lot of satisfaction from this.
"I met Trudy Van Buskirk in my undergraduate program at The University of Western Ontario. That was 40 years ago and, like life, our friendship has had its ups and outs and downs. One thing that has not changed, despite the years or our health issues, is Trudy's dedication to marketing, small business and being an entrepreneur. If you need someone in your corner I recommend Trudy without hesitation." Aletta de Wal, Artist Advisor & Art Marketing Strategist, Author of 
"My Real Job is Being an Artist – What You Should Know Before you Quit Your Day Job (or Get One)"
 http://www.artistcareertraining.com
But I always felt that something was missing so when I was 25, I made the first significant change that would begin to transform my life. I moved from London, Ontario to the "big" city of Toronto. I believed this city would have more opportunities for me. There I completed a Masters in Education (at OISE – University of Toronto) part time while I taught. I was an elementary school teacher for eight years in total and I'm glad I was. (a characteristic of entrepreneurs – change.)
I had three dreams. Travel had always been one of them and so has having my own business. However it was in Toronto that I became aware of the third one – the fact that I wanted to sail and own a sailboat.
At 30 I did what I'd always wanted – started a business. My dream had become a reality. We (my partner and I) co-owned one of the first Apple computer dealerships in Canada – and we had employees! I'd had no education in starting or running a business. (That's what I meant when I said that my formal education didn't make a difference.)
But I didn't stop thinking about the sailboat! I took lessons, raced on a  boat owned by another woman, went on a sailing vacation from the Thousand Islands to Niagara-on-the-Lake, took a 2 week sailing vacation in the British Virgin Islands, sailed in San Francisco Bay … and finally … owned a sailboat in San Francisco   (another characteristic of an entrepreneur – persistence.)
I had done all of this even though I couldn't swim. I wasn't afraid of being ON the water in a boat just being IN the water.  (an attribute of an entrepreneur – take risks).
A Sailing Story …
One January afternoon three of us sailed from San Francisco across the bay to a Tiburon café. Being winter (although still warm and sunny) it got dark early and the fog rolled in as it did in San Francisco. We finished our coffee and headed back.
It was now dark and foggy. We couldn't see more than 6 feet in front of us. All of us knew how to sail. It was Jeff's boat and he was the most worried. Nigel was at the helm and wasn't frightened at all. He's an Englishman who'd sailed the English Channel where he'd experienced much worse. I was excited AND frightened but knew we'd get across fine. (another characteristic of an entrepreneur – think positively.
We knew where we were going, had maps, and we had a ship to shore radio on which Jeff called the Coast Guard. They could see us on their radar. We even had to do a 360 degree turn to stay out of the path of a BIG ship in the shipping channel that couldn't stop or turn quickly like we could. Very scary!
We got across the bay and saw San Francisco. We sailed the rest of the way in (we had been motoring) to our berth at Pier 39. We were "buzzing" with fear and excitement. We had done it!
A man at the Coast Guard was our "friendly voice in the fog".
Let me be yours.
Some of My Past Business Endeavours
Over the years I've done many things …
Co-created and built two companies from the ground up – one of the first Apple computer dealerships in Toronto (1980-89) (that's why I'm still a Macintosh user) and a market development company in San Francisco that designed and produced national conferences and trade shows (300 to a maximum of 2000 attendees) in the mobile and wireless industry (1994-1998). Both were at the "bleeding edge" of technology.
Consulted, coached and mentored 100's of startup and existing small business owners in marketing their business online and offline.
Developed and taught training seminars on a wide variety of topics for small business from planning to marketing and sales.
Consulted with small business owners and professionals on projects to review and revise company operating procedures including marketing strategies and programs, sales and service procedures, computer technology, inventory control and distribution.
Given keynote addresses in Canada and internationally on networking (the human kind), marketing, entrepreneurship, and sales.
Been a founding director of four associations for business and education in Canada and the U.S.
Run my own networking group in Beaches in Toronto
All of them show my interest in and subsequent knowledge of and experience in the areas of small business, teaching/ training, technology and event planning and implementing. My knowledge has come not from formal education (although I hold a few degrees) in a field but from passion, perseverance and risk. I've been self-taught in business but my training and experience as a teacher provided me with many skills and my attendance at university taught me discipline.
Business and life have given me great success and I'm very thankful for this. Over the years there have been many obstacles to overcome – my diagnosis in 1978 with a rare blood disorder (life threatening but not debilitating that required me to receive over 35 blood transfusions over the years), my Dad's death at 59 of a heart attack, my first business ending in 1989 and many others. Some are over and some are ongoing like the effects of my strokes.
I came through each because of my attitude – I always asked for help when I needed it, took risks, and looked for the benefit that came from each problem. You see, I saw each one as an obstacle to reaching my goals. I believe that it's my positive approach and outlook to life that aids me in helping you.
Many people have survived the physical problems they were born with. I'm different because I'm older (62) and am not over the current outcomes of several strokes in 2005 (I talk "funny", my right hand is spastic and my balance is poor) but they affect my life less than they could (or should!). Thank goodness that technology has progressed so much. It allows me to communicate with clients all over the world – and SEE them, too (via skype).
I'm not a financial success THIS time – YET – but I'm a survivor and thriver and these strokes didn't take my optimistic attitude or my knowledge or experience. I've been a success before and I know what to do!
So … if I can run my business so can you!
Are you ready to live your destiny?
I want to help you!
"Trudy has worked with me as a teacher and as a coach in small business programs for people with disabilities as well as being a mentor and coach for me as I launched my own business. Her sincere acknowledgement and her inspiring ways serve to raise her 'students' confidence, and their businesses up several notches! Her authenticity and her awesome knowledge and experience make the information in her books and on her web site invaluable." ~Wenda Abel, Senior Business Consultant and Principal of BizBrilliant Enterprises wabel@rogers.com