This may seem counterintuitive but it's not. You have to try many things and have many failures before you know what works for you — – and only you.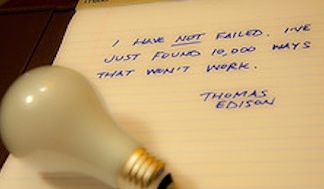 A famous quote by Thomas Edison is "I have not failed. I've just found 10,000 ways that won't work."
That doesn't mean you don't need to plan – you do.
Your plan as a solopreneur is not carved in stone but should be looked at least every 6 months and assessed. You don't know when you start a business who your target market will be or which marketing activities work.
But I'll repeat — plan anyways but put "review" right in your plan.
Several of us who coach and mentor business startups recently had a conversation and agreed that one topic which should be taught and emphasized is that people need to try things a lot in the first year. A woman who started her business last year said that she's changing her target market and asked if that was alright. We all chimed in "of course it is – that's normal. Don't feel guilty that you didn't know when you started. Few people do."
It's like learning to ride a bicycle.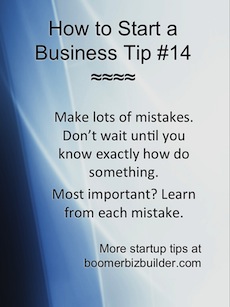 I was about eight and kept watching with envy the other kids on my street who could ride a bike. They would "whiz around" the neighbourhood. My parents had bought me a bike and a neighbour offered to teach me to ride. He held onto the back of the seat so I wouldn't fall. Needless to say, I didn't learn. Then another neighbor (a teenage girl) stepped in one day.
I thought she was holding onto the seat too so I kept riding. But when I turned around she waved at me from half a block away and called out "you're riding." I fell right away but got back up. I fell often at first but kept trying  … and rode. I was still wobbly but in about an hour I was riding up and down our street.
What did I learn from that?
Focus Know what end result you want and go for it.
Persistence  "Try, try again."
Confidence She (the one who taught me) believed in me and said so.
Falling is good. Just keep getting up.
Plan for mistakes

Make lots of mistakes. Plan to fail. It's a good thing. Make failure a part of your plan.
Review your results every six months. If you're not getting where you want to go with the marketing tools you're using — try something else.
Ask clients what they want and are willing to pay for. Focus on a smaller segment of your target market or change markets completely

What I do today is different from what I did in 1980. I've refocused or changed businesses six times since then and tried many different things in that time. Each time I assume that making mistakes will be a part of the process.
Tell me about your plan and the mistakes you've made.
photo credit: LifeSupercharger via photopin cc
photo credit: StormKatt via photopin cc