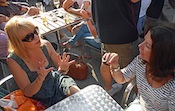 You need to be on social media if you have a business today. But the best way still to build a relationship is to get together face to face. I was reminded of it a few years ago when my "movie buddy" and I went to see The Social Network which was about Mark Zuckerberg founding Facebook.
You may think I'm going to write something I learned from the movie but I'm not – exactly.
We met before the movie to catch up over a coffee, and play some checkers, too. That event reminded me that a "face-to-face" get together is really a reunion. It's a chance to see the person's expression and "feel" their warmth (pleasure or displeasure) as we each take a turn to talk. You're building your relationship.
Then we went into the movie and I was reminded that even though social media is important for us and our businesses to attract people that the physical act of getting together is better – even wonderful. We should savour every second of it. It's an opportunity to "be in the present".
So meet your clients in person if you can. It's more than good marketing. It's great to be WITH someone. And if you live far away from them you can use skype or google hangouts to see them. when you chat.
What do you do?
(By the way, it was a good movie.)