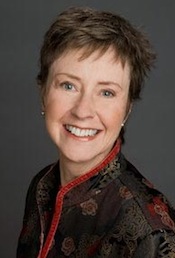 I had a wonderful conversation and interview with Anne Sowden of Here's Looking At You. Anne and I have chatted with each other for three years in July at the annual CAWEE (Canadian Women Entrepreneurs and Executives) Lunch 'n Learn tea at the elegant King Edward Hotel. I sent her an email this year after it, and asked why we only meet there and said I'd love to meet her for coffee to get to know her better. Hear her answer  in the recording.
Networking pays off again!

I hadn't realized she'd had jobs in marketing and communication like several of the women I've interviewed.  When she was laid off she took some training and became a business owner herself as an image consultant. You'll hear a lot more detail about her and her experiences and beliefs in our interview recording.
We met at a coffee shop nearby and the noise you hear is other patrons talking to each other. Red Rocket Coffee is a friendly, individually owned local business that serves and sells free trade coffee and is where I like to meet people.
Click below to hear our interview. If you want to save a version to listen to at a later time, click where you see "Download MP3″.

Anne can be reached via phone at 416–429–8028 here in Toronto or by email at anne@hereslookingatyou.ca
Her website is
hereslookingatyou.ca
. You may ask her any questions about her services and you may even use her. She's very accessible and will call or email back right away. If you want to see your closet with new eyes, use Anne's. She'll not only change your image but focuses on communication and behaviour. We know that new clothes boost our confidence too

I interview these women business owners to demonstrate to you that YOU CAN DO ANYTHING!