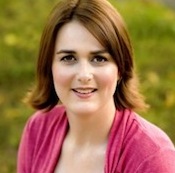 I was chatting with Deanne Kelleher of KAOS Group and mentioned that I was doing interviews. She told me that she had been interviewed by Anne Carbert. I looked at Anne's website, liked her interviews and wanted to know what software she used. Deanne then introduced Anne and I at a CAWEE (Canadian Women Entrepreneurs and Executives) meeting (Deanne is a wonderful connector!).
I phoned Anne after the meeting and we talked about the "techy" stuff that she was using. She explained what she was doing with the interviews (she and I both happen to be Mac users!) and I asked her to be interviewed by me.
Long story short, she said yes, I interviewed her and here it is. Isn't networking wonderful

The short version of her background is that she started out to become a lawyer. She believed in human rights and thought that law was the right place to get them for people. She practiced for a few years and got to work on several international projects.  However, she wanted a work-life balance so started to look for a new career. She eventually became a career counsellor and a business owner. You'll hear a lot more detail in our interview recording.
I found a blog post from Profit magazine online that is about work-life balance and why entrepreneurs have it. This is the link to Entrepreneurs are Rocking Work/Life Balance
Anne and I had a wonderful meeting and our one on one allowed me to get to know her better.
We did the interview at Red Rocket Coffee on the Danforth in Toronto so you'll hear conversations and cups clinking in the background.
Click below to hear our interview. If you want to save a version to listen to at a later time, click where you see "Download MP3″.

Anne can be reached via phone at 647-378-1325 here in Toronto or by email at anne@annecarbert.ca
Her website is
http://annecarbert.ca
/ . You may ask her any questions about her services and you may even use her. She's very accessible and will call or email back right away. If you're in career transition or even if you're not sure what to do next, call her.
I interview these women business owners to demonstrate to you that YOU CAN DO ANYTHING!
Who would YOU recommend I interview? Who is an inspiration to you?