Mindmapping is a visual way to do a number of different things including planning what you want to accomplish in your business this year or what you have to do in a new website or to take notes.
I was first introduced to it by my friend and colleague Aletta de Wal "way back" in the late 1980s. She now runs  Artist Career Training . She uses it all the time and for everything including note taking on coaching calls with her clients. I've used it myself for planning and now that I can only use the computer in order to write, I use the Tony Buzan software.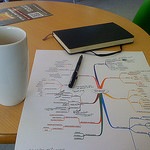 As Aletta says "… Adapt your recordkeeping to the way that you think, instead of cramping your style. This visual note-taking and brainstorming method is a fun, easy way to get your thoughts out of your head and on paper." She just interviewed Chris Welsh of Mastery of Learning who she introduced me to 20 years ago and they talked about "ideamapping" and how he uses it. You can find that interview here.
Tony Buzan is known as the originator of mindmapping and as such is world renowned and a respected authority on it.
Wikipedia lists some of the things you can use mindmapping to do.
problem solving
outline/framework design
structure/relationship representations
marriage of words and visuals
individual expression of creativity
condensing material into a concise and memorable format
Susan Gregory is a trainer and as a local Toronto person teaches productivity and thus mindmapping workshops and she adds to this list:
memory improvement
brainstorming
note tasking with clients or in meetings
organization of projects
writing blogs, articles and even books
Would you like to know how to use a visual method for your planning?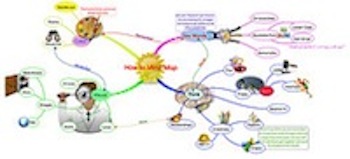 Buzan suggests the following guidelines for creating mind maps:
Start in the centre with one word and an image of the topic.
Use multiple colors throughout the mind map for visual stimulation and to group things.
Use images and symbols throughout your mind map.
Use one keyword per line.
Each word/image is best alone and sitting on its own line.
The lines should be curved.
The central lines are thicker from the centre and thinner as they radiate out.
Make the lines the same length as the word/image they support.
If you're looking for a non-linear approach to planning then mindmapping is for you.
How do YOU use mindmapping? Try it if you don't yet and share your experience in a comment here. Remember to develop your own personal style.