In the early 1980s I was working on my doctorate in Special Education. A friend of mine was working on her Masters in Adult Education. We had discussions regarding how children and adults learned. She (who had no experience teaching kids) held the accepted (at the time) opinion that they learned differently. I said they learned the same way except adults have more experience and therefore have to "unlearn" some things. (I had taught both kids and adults.)
At the time I co-owned an Apple computer dealership (one of the first in Toronto, Canada) and trained our customers in how to use computers. I had taught elementary school kids from 1972 to 1980 and those in special education from 1976 to 1980 so I had lots of "real life" experience.
It's 2015 and the belief now in Adult Education is that "adults and children learn the same way except adults have more experience and therefore have to "unlearn" some things." Hmmmm.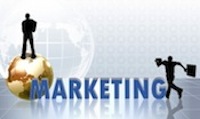 What if online marketing which many believe to be different than offline marketing ends up being the same? Hmmm … interesting again.
Here are fourteen ways offline and online marketing are the same.
they both use advertisements
they both use networking to get clients
they both  use articles
they both use newsletters
they both use books or booklets that you sell or give away
they both use strategic partnerships
they both use "free reports"
they both use follow-ups with prospects and clients
they both use direct response
they both use promotional videos and audio products to promote
they both use radio
they both use free seminars and demos
they both use publicity
they both use images/ pictures
Way back (ha! ha!) in 1984, Jay Conrad Levinson wrote a book that has become a bible for small business owners. It was called Guerilla Marketing. Secrets For Making Big Profits From Your Small Business. It's on its fourth edition now and the term "Guerilla Marketing" spawned a whole series of books that he continued to roll out for 30 years until his death in October 2013. Everything in that book still holds true today. The only difference is that with the invention of the internet and the widespread ownership and use of computers it's now easier and cheaper AND you can promote your business both locally and internationally.
So what's changed? Not the marketing activities themselves. What's different is just the method. Do you agree or disagree? Tell me.
Next time I'll write about how offline and online marketing are different. Watch this blog for that!