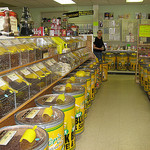 For those who don't go to a "bulk grocery store" you'd be surprised at what they sell there. They have the usual – nuts (did you know that here in Ontario if you buy the unsalted type there is no sales tax?), raisins, coffee beans, tea bags, flour, etc in bulk – but they have other groceries as well. Where I go they sell organic cereal and baking materials!
OK. My anecdote ….
Recently I got some things at the "Bulk Barn" – a chain in Toronto. I  had spent a bunch of money (as you do) and when I was at the checkout, the girl there gave me a gift certificate. I wasn't expecting it and therefore didn't spend/ buy accordingly – it was a surprise!
I knew it was to get me to come back (a type of marketing) but because I wasn't expecting it, and the checkout person smiled as she gave it to me, it was a joy.
I smiled as I received it

Do you give your customers gifts even if they have "strings" attached? This event made me think  about my own business and what I could give to my clients to get repeat business — or referrals — or even to  have clients remember me and talk about me.  HMMMM ….
What do you do to get your clients to keep coming back?
P.S. One Christmas my hairdresser gave me a gift certificate for a haircut at her shop. A very welcome surprise