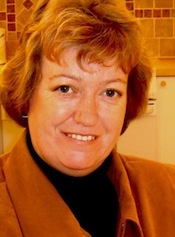 Sheila and I met several years ago while networking at the now defunct Women in a Home Office Beaches Branch which met at Ashbridges' Bay Yacht Club in Toronto. The scenery there is beautiful and looking out over the waters of Lake Ontario is so peaceful. But I digress

The short version of her history is that she started with a fine arts education which led her to graphic design and then to work in the print industry. She became a marketing product manager and then a business owner. You'll hear a lot more detail in the recording of our interview.
I've done some work for her and she's been a "regular" at our  network each month since we began. We've become close and have even done some brainstorming.
Sheila and I did our interview at Red Rocket Coffee on the Danforth so you'll hear conversations and cups clinking in the background. I learned even more about her background than I knew.
Click below to hear our interview. If you want to save a version to listen to at a later time, click where you see "Download MP3″.

Sheila can be reached via phone at (416) 266-2717 here in Toronto or email her at
sidesign@rogers.com
Her website is
www.s-i-design.ca
. You may ask her any questions about her services and you may even use her.
I interview these women business owners to demonstrate to you that YOU CAN DO ANYTHING!
Who would YOU recommend I interview? Who is an inspiration to you?