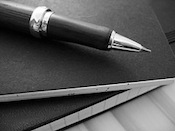 Some people make their living writing like my colleagues Barb Sawyers and Suzan St Maur.  But most of us don't. We either consider ourselves good writers or poor ones.
We also have many reasons not to write such as:
we're not good at writing and don't have the financial resources to pay for it
we're too busy to write on social media like twitter, facebook and LinkedIn (and besides that's not where our clients are)
we don't need a blog (or we don't have  .. time .. technical expertise .. money – pick a reason)
we don't have the time or the writing ability to write the content for our website so we pay our web developer to do it
I could go on. All of the above are reasons it's true but that's all they are … just reasons.
We need to communicate with our clients and prospects. We need writing to do this.
Would you like to know how to change our "excuses" to possibilities?
You CAN do something about your writing and get better. Here's how:
write more. "But I'm not a "good enough" writer", you say. All the pros will tell you the same thing that if you want to become a better writer you have to write more. Remember the saying that practice makes perfect? We're entrepreneurs. What do we do to reach our goals? Be focused.
write then before you "go live" somewhere with it, have someone edit it. I taught non-readers in the late 70s and one of the things I told them was to write whatever came into their minds then I would make it "look good". It worked.
speak into a recorder then transcribe it. This is one of the tips that Suzan St Maur tells people.
"write like you talk" only better as the title of Barb Sawyer's book suggest. I know that writing is a different skill than speaking but Barb tells you how.
learn about how to write. Take courses on writing, or free webinars, read books, and subscribe to writer's newsletters. Both Barb and Suzan give lots of writing tips.
There are so many places you need to write nowadays. You have many places to write and therefore many opportunities. What have you done to be a better writer?