My name was used but not my email address. I only knew because a close friend of mine forwarded me an email she got in which MY NAME had been used. How did it happen? It doesn't matter how (it's too technical even for me). She deleted the email that was "supposedly" from me right away but kindly let me know.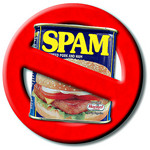 Fortunately we're both "technically savvy" and knew what to look at and what to do.
Nowadays many people are reading their email on cell phones which have such small windows that they only show the name and not the email address in the "From" line. Spammers count on the fact that people are in too much of a hurry to look at the email address. They see the name and immediately look at the message if it's from a trusted source.
Here's what to do every time you check your email …
Don't rely only on your spam software. It doesn't stop every spam. One of the emails I got was caught by my spam filter and one was not. DON'T TRUST TECHNOLOGY. TRUST YOURSELF.
Take time to read the from line AND the email address used. That's another reason that "slow" is better than "fast".
Here's how you can tell it's a spoof or spam:
The email is wrong for that person. What address does your friend or colleague usually use? (In November 2012 most are yahoo subscribers)
The Subject line is blank
There is only one line that says "Hi (your name) then a link. (You can tell a link because it's underlined and in blue
There is no signature
This morning on an American talk show they were talking with an expert about "spammed" email and one of the things she said is that even if it's from a trusted friend you MUST do all of the above.
Here are two links to blog posts my friend Aletta de Wal who told me about my "spammed" name wrote.
Spoofs: Don't take the bait   and   Spoofs about shopping
Tell me about your own experiences. Have you been spammed? Has your email address been "stolen" and used?
photo credit: hegarty_david via photopin cc