I've always been organized. When I was a child I had the neighbourhood kids come to our garage to watch a skit my brother and I had made. As a schoolteacher I volunteered to be the chair in the early 80s of a "computers in the classroom" conference of about 1200 people. As the co-owner of an Apple computer dealership in charge of finance and operations I took inventory every month.
Getting things done in an ordered fashion was second nature to me. I knew all of the steps to take — in my head

Of course noone is a mindreader so others didn't know what I wanted. I didn't realize at the time how writing them down would make my staff feel empowered.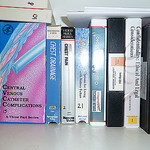 It wasn't until I was involved in a conference company in San Francisco, that I wrote out the procedures for events. I did it so everyone knew step by step what to do. When I gave them to my staff they knew exactly what to do — and did it.
But I'm not organized you say. "I couldn't do that." Yes you can and I'll tell you how.
Here are 3 ways to write down your procedures.
Write as you do it. Everything you do in your business has a process that you follow. Start with an easy one like invoicing. Write down each thing you do as you do it. Edit it. Now try something more difficult but make sure this time it's a revenue generating activity.
Write the procedures from memory. When you've finished, use them to be sure you haven't missed anything.
Speak the process into a tape recorder. Transcribe the recording then use them as in #2.
Use a new client. Record everything you do or better yet tape record the entire client meeting. For my interviews I got a small recorder since I intended to do them away from my home office. Make sure that the recorder can be plugged into your computer via USB and will download the recording automatically as an mp3 file. (I have the Sony IC recorder model ICD-UX512 which I got at Staples.)
It's not a question of having the time but of making it. I read in the November 2012 print issue of Profit magazine the list of Canada's top 100 Female Entrepreneurs about Chandra Clarke who started and runs  Scribendi.com in Chatham, Ontario. It's an online editing and proofreading business and her meticulous attention to processes and having checklists for everything has allowed her to get work around the world and to work with staff virtually. Her business is also No. 89.
I took a telecourse in 2011 from Tsufit and one of the things she told us that I'll always remember was that one of the ways we could differentiate ourselves was by having a unique process.
What is your unique process? Have you made the time to write it down?
Keep learning, and until next time.
Trudy Van Buskirk