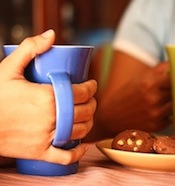 We know that networking is one of the ways to build relationships and thus our business. We also know that networking is more effective when it's done face to face. As baby boomers we aren't as comfortable or knowledgeable with social media as those who grew up with it. (Image courtesy of  FreeDigitalPhotos.net )
Recently I heard how one of my business friends Diane Young of Circle of One is using linkedin to find people to get together with. I haven't heard or seen this anywhere yet.
How do you do it?
1. Go to those in your contact list in linkedin and groups you've joined.
2. Choose local people who are in a similar business to yours that you'd like to know better.
3. Call them by phone (I know it's an "old" method but much friendlier than email.) and invite them to get together over tea or coffee. Give them times you're available and ask for theirs.
4. make a date to get together.
It's as easy as that.
When you get together you'll learn more about them and they about you. Get to know them. You'll have a business acquaintance for life!
You can also find many things in your conversation to blog about (if you have one). Be sure you blog about the meeting itself. Be sure and link to the other person's website when you refer to them. Remember that a blog is a marketing tool and every encounter could become a post.
Do you have any innovative ways that you use Linkedin? Tell us about them in your comment.