As a baby boomer starting a business you may have heard that you should "build a list". Do you know what it means? A list in the business context includes everyone who signs up for and gets your newsletter OR any of your friends or colleagues who agree to get whatever you send by email REGULARLY. It doesn't mean when you send out an occasional email and it's not everyone in your email address book.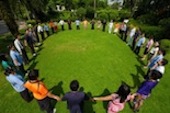 Why call it a community instead of a list?

How do you feel when you hear the word list? How do you feel when you hear the word community? (Image from FreeDigitalPhotos.net)
The word list evokes feelings related to order and systems while the word community conjures up feelings of inclusion.  Interesting, isn't it? Makes you see how changing the word changes the feeling – dramatically. People who join a community want to stay connected and belong and that's a female quality, too.
Use community rather than list
I believe that we want to build relationships. That's what business (and life) is all about. We want to create a welcoming environment for people to join. How do we do this with language? A good start is using the word community instead of list.
What do YOU think? Do you agree or disagree and why? Share your opinion. Comment.